Before I lose a few words about the formation of the aurora borealis, I would like to point out that this is not a scientifically founded discourse, but here only a rough overview of the phenomenon of the aurora borealis is intended to be conveyed. Furthermore, I am not an expert in night photography, as I find night photography itself not so exciting and therefore do not practice it very often. I have a different opinion about the nighttime photography of the aurora borealis, as this is an absolutely fascinating natural phenomenon that is incredibly fun to photograph. Since I have found very little information on aurora borealis photography on the internet, I thought it would be useful to close this gap with my report.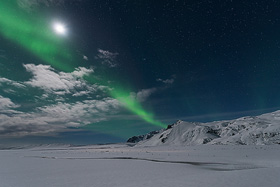 Photographing the aurora is relatively simple if you consider a few things. In general, cameras with larger sensors are somewhat better suited than cameras with smaller sensors, as these cameras tend to produce less noise at higher ISO values. However, modern cameras with crop sensors are now so good that they can also be used for aurora photography. In addition to the camera, you will need a tripod, a remote trigger, and a lens with as much light as possible. The camera should be able to be manually operated in terms of aperture, exposure time, ISO value, and focus, as this is essential for the best results!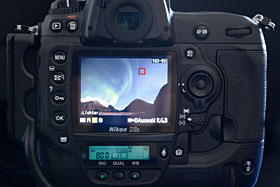 Polar lights are naturally seen and photographed at night, which presents a small problem as the exposure time cannot be extended indefinitely. If the exposure time is too long, one will quickly notice that the stars in the photo become streaks, which is generally not desired. The reason for the streaked representation is due to the Earth's rotation, as our Earth moves further during the shot, the stars are displayed as streaks. Besides the stars, the movement of the auroras is also a reason not to extend the exposure time too much, otherwise there is a risk that no structures of the auroras will be visible on the photos and instead the sky will be predominantly green.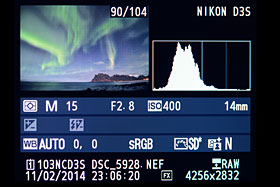 Even though the Northern Lights are already a spectacular and fascinating subject, I still believe that it is important to pay attention to the composition when photographing the Northern Lights.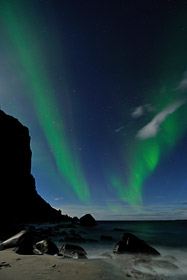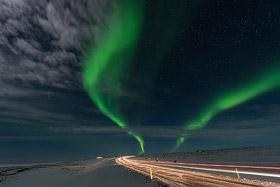 As previously described, the auroras occur most strongly in the area of the North and South Poles. In Germany, auroras can only be observed extremely rarely and, if at all, mostly only during the maximum of the 11-year solar cycle. The appearance and frequency of auroras are determined by the 11-year solar cycle that the sun goes through. The maximum of the solar cycle was last in 2012 and is now decreasing again.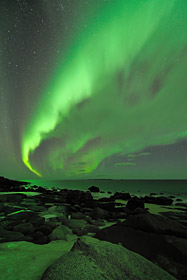 In addition to the camera, a wide-angle lens with as much light as possible should be brought along. Usually, the lens should have a minimum light strength of 2.8. Although there are now wide-angle or super-wide-angle lenses with higher light strengths than 2.8, these lenses generally have a coma distortion error when opened, which means that the stars are no longer round but are shown with a tail (usually in the corners). A tripod, replacement batteries, and a remote trigger are also helpful. I would also not do without a viewfinder cover, as there is a risk of stray light entering the viewfinder during long exposures. A headlamp is highly recommended, preferably one that also emits red light, as the eyes need to readjust strongly after turning off the headlamp when searching for the Northern Lights. The temperatures in winter can reach double-digit minus degrees in the desired regions, so the clothing should be designed so that you can endure several hours in the night without discomfort.
(back to the beginning)
A tip for people who are capturing the Northern Lights for the very first time and have limited experience with night photography: I suggest practicing on your local starry sky before embarking on the trip. You will quickly get a feel for the correct exposure times and focusing on the stars. With this trained routine, you can then approach photographing the Northern Lights with much more ease and relaxation.
(back to the beginning)
written: March 2014, (author: Olaf Juergens)
updated: March 2018

 print version